Me and My Work
Over twenty years my woodworking life has evolved from building timber housing in remote Canadian communities and the Scottish Highlands to making fine furniture in Brighton and, since 1998, in beautiful South Devon.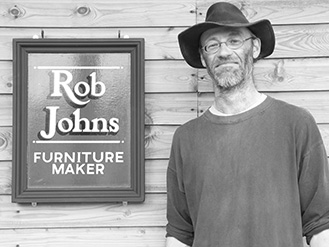 Working mostly with native and often locally sourced hardwoods, I aim to make furniture which is both beautiful and practical. All my pieces are individually made, and although I use some simple machines and power tools, I don't wish to emulate the bland perfection of mass produced furniture.

Instead I like to use planes and chisels to smooth surfaces, shape edges and carve details. This not only gives me the pleasure of close contact with the material, but I believe it also leads to a difference in the end product, one which shows evidence of human involvement and has a subtly different visual and tactile quality.

The wood plays its part in this, and by careful selection of timber the natural colours and patterns in the wood can harmonise with, and enhance, the design of a piece. I finish my work using mainly natural oils, waxes and polishes which enrich the wood and allow the pieces to age gracefully, growing even more pleasing as the years go by.
My work is exhibited at various galleries and craft venues in the South West, and I also offer a service working to commission. This could be for a small item such as a special gift or for a larger project. Whatever your requirements, I am happy to discuss your ideas and help turn them into reality! By working closely with you, and through careful attention to detail, I can ensure your delight with the finished piece, one which will bring you lasting pleasure over many years of use.
---
Site built by Andy Barnes